Title: What is Endpoint Security? Here's the definition, components, and how it works For You. Get More Information from our site @iwanrj.com free.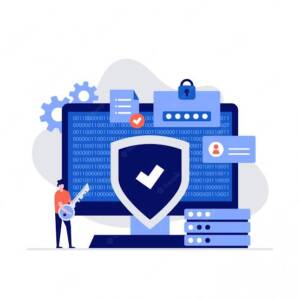 End security is something that is really needed in the midst of increasingly rampant cyber security threats. For information, endpoint security or endpoint is the process of securing various types of endpoint devices that are on a business network.
In practice, this process will involve a number of protective measures against the business network when it is accessed by these devices. In simple terms, endpoints will protect the business network when it is accessed by remote, wireless or mobile devices, such as laptops, tablets and others.
In order to understand more about endpoints, let's look at the information below that has been summarized for you.
What is Endpoint?
Just as the name suggests, an endpoint is the end of a communication path in a network. The existence of this endpoint is one way to protect business networks when accessed by remote, wireless, or cellular devices.
Types of endpoint devices include any device connected to a central business network. These types of devices are often referred to as end-user devices, such as computing, such as mobile devices, laptops, desktop computers; office equipment, such as printers, facsimiles, and other network-connected devices; even servers are categorized as endpoint devices.
What is Endpoint Security?
Endpoint security are measures that provide security and protection to end-user devices, such as desktops, laptops, and mobile devices. That way, the device avoids the target of hackers.
Endpoint security itself is assigned to overcome the risks posed by devices connected to the corporate network. These endpoint processes include processes, data, and sensitive information that is stored and transmitted through those devices.
Because of this process, devices connected to corporate networks become entry points for various cybersecurity threats. In fact, it is not uncommon for endpoint devices to be the weakest link in network security.
Therefore, endpoint security is increasingly needed because the security threats that ride mobile devices continue to grow in number and ingenuity. This condition is of course no longer focused solely on traditional antivirus, but continues to provide comprehensive protection to avoid malware.
Why is Endpoint Security Important?
Data is an essential part of any business. Exposing sensitive data can result in catastrophic financial loss or significant damage to your hard-earned reputation.
That's why companies do everything they can to protect themselves from bad actors. And these days, just securing the network isn't good enough.
There was a time when cybercriminals usually only attacked corporate networks. However, an increase in endpoint breaches has been noted, and as a result, more endpoint security products have been introduced.
Sometimes it's easier to gain control of one endpoint and then, through that access, affect the entire network connected to it.
Endpoint security platforms offer multiple layers of protection, and unlike older antiviruses, they can help identify patient-free devices and eliminate threats.
Endpoint Security components
Important components that are usually included by all endpoint security software or endpoint security are:
Encryption for disk, e-mail, and endpoints.
Integrated endpoint firewall.
An email gateway used to block phishing attempts and social engineering attacks targeting employees.
Protection against insider threats such as rogue employees or unintentional and malicious acts.
Zero-day threat detection enabled by machine learning.
Advanced antimalware protection against all types of attacks on all devices.
Endpoint Security function
As previously mentioned, endpoint security or endpoint security is something that is needed in a device. Because after all, the endpoint is the main door that many hackers attack.
As for some of the benefits or functions generated from endpoints, ranging from anticipating and avoiding all bad possibilities to being a protection so that customers do not lose the data they need.
Furthermore, one of the endpoint functions in a network security system is to prevent exploitation from communicating with each other. For more details, let's look at the more complete endpoint security functions.
1. Detect unknown threats
The main function of endpoint security is to detect unknown threats through timely machine-learning actions. For information, machine learning is a machine that was developed to be able to learn by itself without direction from its users.
2. Provides layered protection
In addition, endpoint security also functions to provide layered protection and not only on the surface. Therefore, all company databases will remain safe and protected from cyber crimes.
In more detail, endpoint security can be used to detect, analyze, and block attacks from hackers. This security system will also collaborate with other security systems so that in the future it can provide administrator visibility.
How Endpoint Security Works
Endpoint security works by allowing system administrators to control security for corporate endpoints using policy settings, depending on the type of protection or web access employees and the system require.
To illustrate, for example, admins block access to websites known to spread malware and other harmful content to ensure endpoint security protection.
Benefits of Using Endpoint Security
There are many benefits to be gained from using endpoint security. Starting from resisting the most sophisticated cyber attacks, to finding problematic applications, and conducting better risk assessments. So that you can more clearly understand what benefits you will get if you use endpoint security, here is the information:
1. The device becomes more protected
By using endpoint security, the device you use can be protected from malware, such as ransomware and trojans. Usually these attacks are file-based and fileless, such as JavaScript, VBScript, PowerShell, and other types of macros.
2. The application is easy
Endpoint security is one of the easiest security systems to apply. This is because the security is monitored directly and can provide data in real time, so the application is quite easy to understand.
3. Flexible
Endpoint security protection is flexible because the desired security still follows various existing trends. In fact, the focus of endpoint security is no longer on antivirus and so on, because hackers are always developing and continuing to innovate to break into corporate databases.
Endpoint Securing Methods
Some of the most common types of endpoint protection include:
1. Data loss prevention
Data loss is prevented to protect users from data theft which is sometimes called data exfiltration. This can be prevented by teaching employees about various phishing tactics, but it is still necessary to protect each endpoint with an endpoint security platform.
2. URL Filtering
The filtering method is a simple method that can save you a lot of trouble. It does this by blocking potentially harmful websites. This type of endpoint security usually requires the use of a software firewall.
3. Insider threats
This threat poses a real danger because you never know if you have a bad employee. Disgruntled employees can access sensitive information, leak, sell or delete it. Trustless network access or ZTNA controls who can access sensitive information and for how long.
4. Encryption decryption
Endpoint encryption ensures that certain data can only be accessed and read with a description key. Only those with the description key can unlock the information. Network access control allows you to manage which users or endpoints are connected to your network and view their activity. These endpoint security systems have proven to be very effective.
5. Email gateways
Secure email gateways analyze messages going in and out of your system and check if they contain harmful content that could pose a potential risk. If that happens, the user can't access the content of the tagged email.
Endpoint Security threats
Endpoint threats are getting bigger, and various attacks can be used to penetrate the endpoints and eventually compromise your business data. Below are the more common threats:
1. Drive-by downloads
This technique is particularly sneaky because it doesn't require the victim to click anything to initiate the download of the malicious code. Simply accessing a website can launch unintentional downloads and compromise the security of your endpoint network.
The endpoint security platform can detect new software installed on any of the devices, and immediate action is taken to remove files and fix the crash.
2. Phishing attacks
Phishing attacks target both businesses and individuals. Nearly a third of all data breaches in 2018 involved phishing. Cyber ​​criminals usually carry out these attacks via email.
They send emails to a large number of addresses in the hope that some of them will share their sensitive information. This is usually done by sending an email impersonating a company or website the victim frequents and asking for banking or login details.
Good endpoint security services work to prevent these attacks from infecting your device.
3. Ransomware
The ransomware takes over user information and encrypts it until a ransom is paid. This can seriously undermine endpoint cybersecurity.
Ransomware can enter systems via phishing or downloads. Once the device is infected, the attacker informs the victim that they will not be able to access the information unless they pay the required amount.
Individuals and businesses alike are advised against paying the ransom as there is no guarantee that the information will be decrypted after payment or that the attack will not be repeated. Otherwise, if this happens to us, be sure to contact the authorities.
Just like phishing, they affect both individuals and businesses. However, the preferred targets are enterprises as they are more likely to pay the ransom for data critical to their operations. For overall security, each endpoint needs to be protected.
4. Unpatched vulnerabilities
Unpatched security vulnerabilities can occur due to laziness or lack of cybersecurity awareness. If you decide to leave your system unattended or if there are some vulnerable spots that you continue to ignore, it could cause severe damage.
These vulnerabilities can serve as a gateway for cybercriminals to enter your system, delete your data, blackmail you, or even sell that data to the highest bidder.